Low energy houses
What is a passive house? A passive house is a building in which a comfortable interior climate can be maintained without active heating and cooling systems. Essentially, the house heats and cools itself, hence "passive".
How does it work?
There are four key areas that comprise the Passive Home system:
– Very high levels of insulation with minimal thermal bridges
– Intelligent use of solar and internal gains
– Excellent level of airtightness
– Good indoor air quality provided by a mechanical ventilation system
With these features in place, a Passive House does not need a traditional heating system or active cooling to be comfortable to live in – the small heating demand can be met using a small electric heater within the ventilation system (although there are a variety of alternative solutions).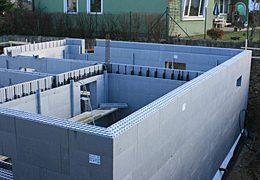 How are air circulation and additional heating requirements catered for? With ICFs supplying the necessary insulation and airtightness, you need a complimentary system to provide adequate ventilation and prevent the air getting stale, as well as make up for any shortfall in heating requirements. This is achieved most efficiently by transferring heat from the stale to the fresh air during the ventilation process. Using our heat transfer system, heat passes from hot air to cold air – it's a process that is so efficient that air entering the room will only be approximately one or two degrees colder than the room it enters.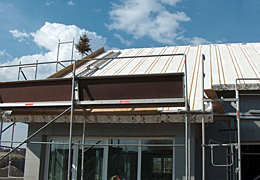 We work closely with one of leading German manufacturer of modular passive house elements Wolf Thermo Module GmbH ICFs – air tight, insulating and incredibly robust Insulated Concrete Formwork is a series of interlocking lightweight modular blocks made of EPS (Expanded Polyurethane Sheeting). When assembled and filled with concrete they create a reinforced concrete wall with exceptional thermal qualities, no thermal bridges and incredible durability, making them popular in areas prone to earthquakes, tornados and forest fire.
We use passive heating solutions that draw energy from the sun, out of the ground, internal building heat sources and heat recovery ventilation system. We use triple-glazed windows. Large glazed areas are facing south.